Have you been looking forward to summertime with your babies? Long pool days and water parks and beach vacations are all but on the horizon for the most exciting summer yet so grab your sunnies and sunhat! In 2023 we pledged to leave the bad in the past and make new, better, and more vibrant and exciting memories this year. Make Mix n' Matching Memories Mommy and me swimsuits are a fun way to bond with your little one, and turn a day at the beach into a lasting memory. Whether your style is casual, classic, funky, bold, or just plain silly, a mommy and me swimsuit look will turn heads and make your day even more memorable. Just don't forget to take lots of pictures!
Made Of High-Quality Material:
Made from 82% polyester and 18%spandex, the family matching swimsuit sets are made of high quality, smooth, quick-dry fabric, stretchy, comfortable and durable, soft shell.
Design Concepts: FAMILY, FASHION, LOVE
Different styles and design with the same elements not only reflect the perfect harmony of the family,but also show everyone's fashion. Family, Fashion and Love are the design concepts we always adhere to.
 We've put together this list of fun matching swimsuits for you to try with your little ones this summer.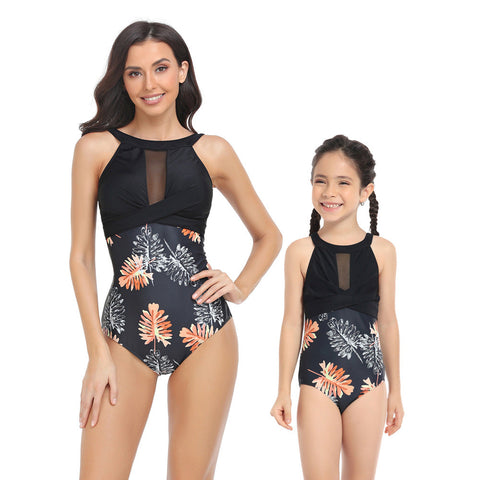 <HALTER FLORAL TRANSPARENT ONE-PIECE MOMMY AND ME SWIMSUIT>
 No list of retro swimsuit looks would be complete without a one-piece look.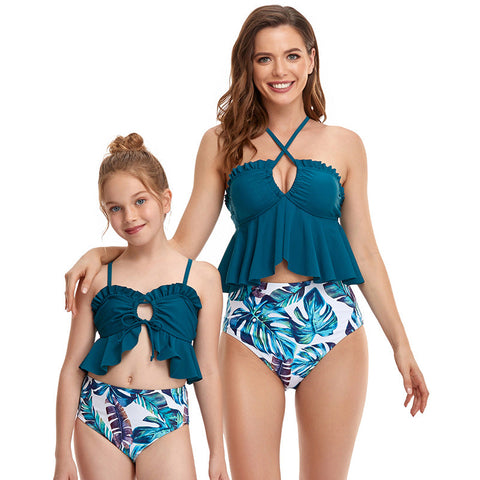 <COVER BELLY BIKINI & FLORAL BOTTOM MOMMY AND ME SWIMSUIT>
The ruffles create a bold silhouette that fits any figure.
<SOLID TOP & FLORAL HIGH WAIST BOTTOM MOMMY AND ME SWIMSUIT>
Pair with your biggest sunglasses, biggest hair, and sassiest attitude. The quintessential leopard print will always be a staple trend in the bathing suit world.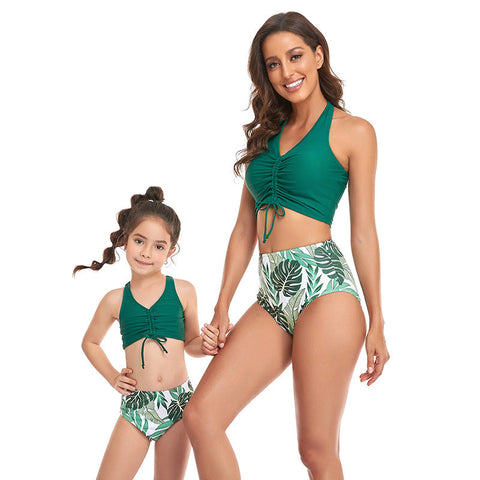 <HALTER DRAWSTRING TOP & FLORAL BOTTOM MOMMY AND ME SWIMSUIT>
Bright colors make you and your child look lively and cute.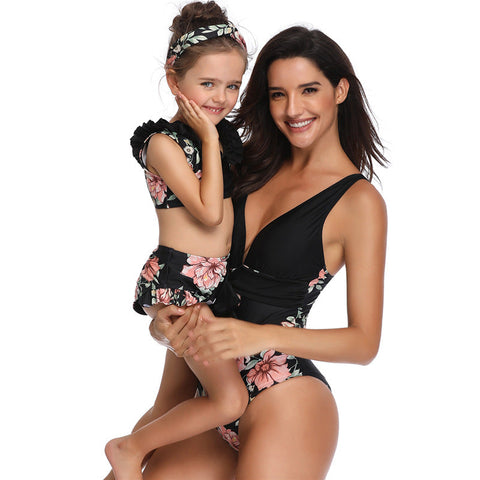 <FLORAL PRINT DEEP V ONE-PIECE MOMMY AND ME SWIMSUIT>
Speaking of floral, why not go all out and make your whole summer look pop with floral color?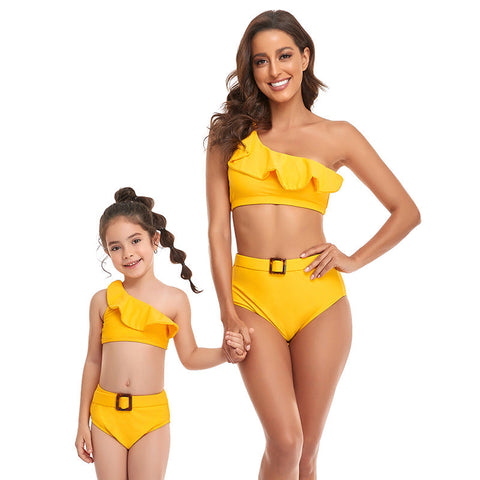 <RUFFLED SPLIT HIGH WAIST TIE BIKINI MOMMY AND ME SWIMSUIT>
The unique slanted shoulder design is very suitable for seaside parties, making you the most eye-catching presence in the crowd.