Summer is here already! Don't we all miss those beaches and the sunshine? I'm sure we all get very excited to go on a summer vacation and chill by the beach. What comes in your mind thinking about beaches? Of course the swimwear outfits. But what do you think is the best swimwear outfit that suits all Indian body types? Monokini, guys! If you are someone who's too conscious about abdominal fat and think bikinis are too revealing, wearing a Monokini can help you cover it wisely and still make you look sexy in swimwear.
1. What exactly is a monokini?
Monokini was AKA one-piece garment with only the brief and just two straps running upwards exposing your entire upper body. Later with changing fashion trends monokini too went through a transformation. Nowadays a monokini comes in a variety of styles such as halter, triangle, Brazilian, cut out etc. These are basically one-piece bathing suits that extend from the shoulders or bust to the bottom covering your rear. The latest trends now feature monokinis with embellishments, frill, side-cutouts, prints, color blocking and what not!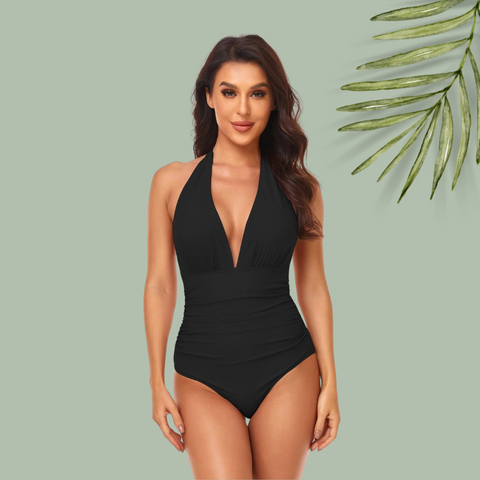 2. How is a monokini different from a bikini?
Well, I'm sure you know what a bikini is but a lot of people get blank when it comes to a monokini. A bikini is a style which has two separate garments, one for covering the breasts and one to cover the genitals, it's like a bra-brief set but crafted for swimming.
Whereas monokinis  is a single-piece garment, but the difference with the traditional one-piece or full piece swimsuit is usually that a monokini is a style that is skimpier with a V-cut bottom.
3. Is Monokini only for thin women?
Technically monokinis flatter all Indian body type. If you have a full bust, suits with halter necks and V-necks will look best. Underwires and thick straps will give better support too. If you have a small bust, a monokini with ruffled upper half will look great and create an illusion of added cup size. If you have an hourglass figure you can accentuate your tiny waist with side-cut out styles.
4. What is the best reason to wear a monokini?
Monokinis are great for those women who want to wear something covered and yet look sexy and fashionable. Monokini is a great option for women who aren't comfortable wearing a bikini. This is a great swimwear style to keep up with the fashion trend too. Especially for women who don't want to let it all hang out in a bikini but still want to make a striking fashion statement, Monokinis are the best choice! Fashion designers have come up with lots of different ways to make this style work, and now it's one of the most popular swimsuit trends out there. Be it a full-sleeve sporty looking monokini or a backless & stringy one for all the divas.
5. Will any monokini look great on you?
It isn't hard for anyone to choose a monokini to slay the look, what is important is to find the perfect fit. There are halter monokinis, low-back, open-back, bandeau, one-shoulder, plunge, and sleeved are all variations that you can try and experiment to see which style flatters your body the most. Asymmetrical necklines can create an illusion of height and the high-waisted designs will tuck in the tummy and accentuating the hips. Picking a smaller size or a bigger size can make the entire look go for a toss. So be careful of picking the correct size.
Now that you know all about monokinis, check out the latest collection and get wishlist-ing!